We know a lot of you have asked about storage ideas for your JustRite stamps, so we're here today to share with you some of our favorite solutions!  First up:
Of course our cling stamp sets come already stored for you on our beautiful full-color printed storage boards:
You can store these boards anyway you wish.  We offer Mini Binder Boxes (measuring 9 ½" x 7-3/16" x 1-3/8"):
Each Mini Binder holds four 8 ½" x 5 ½" storage panels comfortably. The binder features a locking clip that keeps your stamp sets secure.   Binder features a clear overlay with JustRite insert that you can customize to identify which sets are in each binder.  The perfect storage solution for the JustRite Cling Stamps.  Easily transport your stamps to a class or crop in this secure mini binder. Will accommodate storage panels up to 8 ½" x 5 ¾".
For JustRite Original Ribbed stamps 2 inches (square or round) or 2-3/8" and under, I use these jewelry/bead stackable containers -- each section screws onto the next section and will usually hold an entire stamp set.  They can usually be found in either 2" or almost 2-3/4" sizes at any national craft store:
Tosha Leyendekker also uses these storage containers, and found some larger metal ones that will hold up to our largest 3-1/4" round stamps.  Click on Tosha's hyperlinked name above, for the details on where she found the tins.
For larger sized stamps, I finally found these perfect containers about a year ago -- clear plastic Iris photo storage boxes.  They are intended to hold 4" x 6" photos:
They have hinged lids that snap closed and are usually sold in a set of 6 individual photo keepers in a larger storage box for about $10-14.  They can be found in most any large craft store, national "mart" stores, or office supply stores.  A quick Google search yielded these retailer results.
I also recently found the individual plastic cases available separately at a great sale price (under $1), and store them in a larger white photo storage box that I also use for other storage options in my craft studio:
The cases will each hold at least two stamp sets -- I usually store different sizes/shapes together (generally alphabetically), so I don't get the different sets confused!  Above, I have the entire Happy Everything Mini Tag Kit (stamps, plus stamper and dies) AND a large oval stamp set! 
The photo cases will hold up to two of our largest 3-1/4" round stamp sets or several stampers/mounts or acrylic blocks!
 

You can find out more about these storage solutions on this post at my (Sharon Harnist) personal blog, PaperFections.
Amy Sheffer has several different storage option ideas, including these hinged tins for her JustRite Original Ribbed stamps:
And a notebook contains the package inserts, for easy reference:
You can find several more detailed JustRite storage ideas from Amy on this blog post.
Becca Feeken stores her Original Ribbed JustRite stamps with double-sided tape on inserts in plastic sleeves/pages in a 3-ring binder, along with the package insert: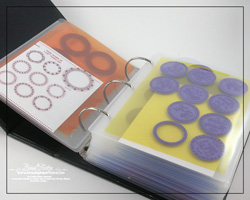 You can find full instructions on this post at Becca's blog. 
JUSTRITE WOOD STAMPERS/CLEAR MOUNTS:
Becca stores her JustRite stampers/mounts in this type of snap together storage unit: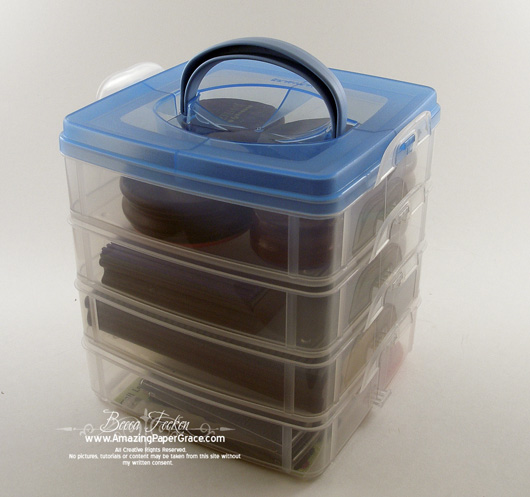 It easily unsnaps to reveal separate storage sections, with room for some stamp and font set: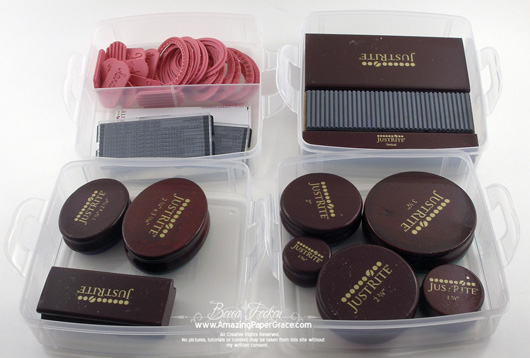 You can find all the detail on this post at Becca's blog.
Many thanks to Amy and Becca for their storage solutions -- We hope some of these ideas will help you get organized with your JustRite stamps!  If you have some other storage options you have found to work well, please share them in the comments!